CAT-SITTER, FELINE BOARDING & CAT SITTING AT HOME
A cat-sitter is a pet-sitter specializing in home cat sitting or cat sitting in feline boarding and cat hotel initially called cat daycare or cat kennel. Like a dog-sitter, the cat-sitter has the same ACACED training for the care of pets whether dogs, cats or nac's. However, some professional pet-sitters prefer to specialize only in a specific animal category like the cat-sitter.
Moreover, there are more and more owners of a dog, cat or nac who, to keep their pet, call on a professional only specialized in dog care, cat guard or nac guard depending on the animal to keep. This is a popular and reassuring criterion for pet owners but it is not always easy to find an available cat-sitter given the very high demand from individuals. It is therefore advisable to anticipate and book a cat sitter at home or a cat pension several weeks or months in advance, especially in large cities.
In the event that there are no cat-sitters available, which often happens during holiday periods, it is possible to use a general pet-sitter for home pet sitting or to solicit a foster family for animals or a family pet boarding that receives dogs or cats by the day or for a long time.
It is important to know that the majority of cat boarding houses and hotels for cats impose the up-to-date health record of the cat to be kept and sign a feline pension contract grouping the responsibilities and obligations to be respected by the 2 parties.
(WEB PROMO EXCLUSIVELY ON SERVICESPOURANIMAUX.COM)
Kibbles with natural chicken ingredients for ADULT CATS
COTAGRO DAILY MENU PREMIUM
CLICK ON THE IMAGE BELOW TO SEE THE DETAILS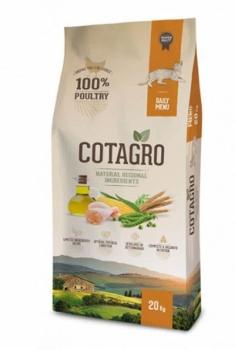 PROMO PRICE 20 KG : 54.90 € TTC - DELIVERY INCLUDED - DELIVERY WHOLE FRANCE (EXCLUDING CORSICA)
OR 2.75 € TTC POUND PER KILO
TAKE ADVANTAGE OF PRIVATE SALES "CAT-FRIDAY"
With nearly 15 million cats in France, the profession of cat-sitter at home and that of feline boarding or luxury cat hotel have a bright future with a demand for cat care still constant and important.
Via the internet and the free directory servicespouranimaux.com, it is easy to find a cat-sitter, cat boarding house or feline hotel anywhere in France and DOM-TOM.
You are looking for a professional cat sitting, just follow the following link:
You are a professional cat-sitter or feline pension, you can place an ad on servicespouranimaux.com:
Everywhere in France to:
Paris, Marseille, Lyon, Toulon, Nice,
St Tropez, Cannes, Bastia, Ajaccio,
Bonifacio, Porto-Vecchio, Calvi, Aix-en-Provence, Arles, Sète, Montpellier,
Perpignan, Carcassonne, Nîmes,
Bayonne, Biarritz, Bordeaux,
Angoulême, Royan, La Rochelle, Poitiers, Clermont-Ferrand, Bourges, Nantes, La Baule, Angers, Le Mans, Laval, Rennes, Guingamp, St Brieuc, Brest, Lorient, Vannes, St Malo, Granville, Caen, Rouen, Le Havre, Lille, Arras, Dijon, Amiens,
Auxerre, Reims, Versailles,
Fontainebleau, Neuilly-sur-Seine, Boulogne-Billancourt, Nanterre, Saint-Cloud, Meudon, Issy-les-Moulineaux, Clamart, Courbevoie, Levallois-Perret, Saint-Ouen, Argenteuil, Sartrouville, Maisons-Laffitte, Chatou, Rueil-Malmaison, La Celle-Saint-Cloud, Viroflay, Marly-le-Roi, Saint-Germain-en-Laye, Chambourcy, Poissy, Orgeval, Saint-Cyr-l'Ecole, Bois-d'Arcy, Montigny-le-Bretonneux, Villepreux, Elancourt, Plaisir, Maurepas, La Verrière, Coignières, Le Mesnil-Saint-Denis, Dampierre-en-Yvelines, Senilisse, Les Essarts-le-Roi, Le Perray-en-Yvelines, Rambouillet, Clairefontaine-en-Yvelines, Saint-Arnoult-en-Yvelines, Rochefort-en-Yvelines, Dourdan, Marcoussis, Janvry, Les Ulis, Orsay, Gif-sur-Yvette, Palaiseau, Massy, Antony, Montrouge, Paris Orly, Aéoroport Charles de Gaulle, Athis-Mons, Savigny-sur-Orge, Viry-Châtillon, Evry-Courcouronnes, Corbeil-Essonnes, Lieusaint, Savigny-le-Temple, Cesson, Melun, Vaux-le-Vicomte, Dammarie-les-Lys, Brie-Comte-Robert, Créteil, Vitry-sur-Seine, Ivry-sur-Seine, Saint-Maur-des-Fossés, Noisy-le-Grand, Montreuil, Bobigny, Bondy, Aulnay-sous-Bois, Livry-Gargan, Villepinte, Tremblay-en-France, Villeparisis, Chelles, Torcy, Bussy-Saint-Georges, Lagny-sur-Marne, Chessy, Coupvray, Serris, Meaux, Gonesse, Sarcelles, Goussainville, Taverny, Franconville, Herblay, Argenteuil, Cergy, Pontoise, Saint-Ouen-l'Aumône, Osny, Saint-Denis, Vincennes, Villejuif, Strasbourg, Metz, Colmar, Nancy, Besançon, Troyes, Auxerre, Beauvais, Saint-Quentin, Soissons, Compiègne, Château-Thierry, Epernay, Châlons-en-Champagne, Saint-Dizier, Bar-le-Duc, Verdun, Chaumont, Vesoul, Belfort, Montbéliard, Pontarlier, Sarrebourg, Lunéville, Thionville, Charleville-Mézières, Maubeuge, Roubaix, Dunkerque, Calais, Berck, Abbeville, Dieppe, Evreux, Dreux, Chartres, Lisieux, Alençon, Bayeux, Mayenne, Saint-Lô, Granville, Le Mont-Saint-Michel, Cherbourg-en-Cotentin, Coutances, Saint-Malo, Dinan, Ploërmel, Châteaubriant, Saint-Nazaire, Guérande, Concarneau, Quimper, Quimperlé, Guidel, Quiberon, La Trinité-sur-Mer, Carnac, Crozon, Douarnenez, Landerneau, Morlaix, Lannion, Paimpol, Callac, Saint-Brieuc, Pontivy, Loudéac, Erquy, Vitré, Rochefort, Saintes, La Rochelle, La Roche-sur-Yon, Limoges, Tours, Niort, Les Sables-d'Olonne, Saint-Jean-de-Monts, Bourges, Orléans, Blois, Cognac, Royan, Vaux-sur-Mer, Saint-Palais-sur-Mer, Saint-Georges-de-Didonne, Soulac-sur-Mer, Libourne, Arcachon, Biscarrosse, Mimizan, Marmande, Mont-de-Marsan, Orthez, Dax, Saint-Jean-de-Luz, Pau, Lourdes, Tarbes, Muret, Montauban, Gaillac, Moissac, Castres, Toulouse, Cahors, Périgueux, Brive-la-Gaillarde, Aurillac, Rodez, Figeac, Albi, Tulle, Vichy, Thiers, Roanne, Montbrison, Vénissieux, Vienne, Saint-Priest, Villeurbanne, Mâcon, Saint-Etienne, Romans-sur-Isère, Valence, Montélimar, Orange, Avignon, Carpentras, Cavaillon, Saint-Rémy-de-Provence, Nîmes, Arles, Montpellier, Le Grau-du-Roi, Sète, Béziers, Agde, Perpignan, Argelès-sur-Mer, Narbonne, Carcassonne, Salon-de-Provence, Martigues, Cassis, La Ciotat, Manosque, Hyères, Saint-Tropez, Sainte-Maxime, Ramatuelle, Cogolin, Grimaud, Brignoles, Le Pradet, Six-Fours-les-Plages, Sanary-sur-Mer, La Valette-du-Var, La Garde, Carnoules, Pierrefeu-du-Var, Saint-Raphaël, Fréjus, Le Muy, La Motte, Draguignan, Trans-en-Provence, Le Cannet, Antibes, Saint-Laurent-du-Var, Monaco, Menton, Cap-d'Ail, Beausoleil, Monte-Carlo, Cagnes-sur-Mer, Grasse, Fayence, Grenoble, Gap, Digne-les-Bains, Sisteron, Voiron, Chambéry, Albertville, Aix-les-Bains, Annecy, Villeurbanne, St Etienne, Foix, Guéret
01 - Ain - Bourg-en-bresse - 02 - Aisne - Laon - 03 - Allier - Moulins - 04 - Alpes-de-Haute-Provence - Digne-les-bains - 05 - Hautes-alpes - Gap -06 - Alpes-maritimes - Nice - 07 - Ardèche - Privas - 08 - Ardennes - Charleville-mézières - 09 - Ariège - Foix - 10 - Aube - Troyes - 11 - Aude - Carcassonne - 12 - Aveyron - Rodez - 13 - Bouches-du-Rhône - Marseille - 14 - Calvados - Caen - 15 - Cantal - Aurillac - 16 - Charente - Angoulême - 17 - Charente-maritime - La rochelle - 18 - Cher - Bourges - 19 - Corrèze - Tulle - 2A - Corse-du-sud - Ajaccio - 2B - Haute-Corse - Bastia - 21 - Côte-d'Or - Dijon - 22 - Côtes-d'Armor - Saint-brieuc - 23 - Creuse - Guéret - 24 - Dordogne - Périgueux - 25 - Doubs - Besançon - 26 - Drôme - Valence - 27 - Eure - Évreux - 28 - Eure-et-loir - Chartres - 29 - Finistère - Quimper - 30 - Gard - Nîmes - 31 - Haute-garonne - Toulouse - 32 - Gers - Auch - 33 - Gironde - Bordeaux - 34 - Hérault - Montpellier - 35 - Ille-et-vilaine - Rennes - 36 - Indre - Châteauroux - 37 - Indre-et-loire - Tours - 38 - Isère - Grenoble - 39 - Jura - Lons-le-saunier - 40 - Landes - Mont-de-marsan - 41 - Loir-et-cher - Blois - 42 - Loire - Saint-étienne - 43 - Haute-loire - Le puy-en-velay - 44 - Loire-atlantique - Nantes - 45 - Loiret - Orléans - 46 - Lot - Cahors - 47 - Lot-et-garonne - Agen - 48 - Lozère - Mende - 49 - Maine-et-loire - Angers - 50 - Manche - Saint-lô - 51 - Marne - Châlons-en-champagne - 52 - Haute-marne - Chaumont - 53 - Mayenne - Laval - 54 - Meurthe-et-moselle - Nancy - 55 - Meuse - Bar-le-duc - 56 - Morbihan - Vannes - 57 - Moselle - Metz - 58 - Nièvre - Nevers - 59 - Nord - Lille - 60 - Oise - Beauvais - 61 - Orne - Alençon - 62 - Pas-de-calais - Arras - 63 - Puy-de-dôme - Clermont-ferrand - 64 - Pyrénées-atlantiques - Pau - 65 - Hautes-Pyrénées - Tarbes - 66 - Pyrénées-orientales - Perpignan - 67 - Bas-rhin - Strasbourg - 68 - Haut-rhin - Colmar - 69 - Rhône - Lyon - 70 - Haute-saône - Vesoul - 71 - Saône-et-loire - Mâcon - 72 - Sarthe - Le mans - 73 - Savoie - Chambéry - 74 - Haute-savoie - Annecy - 75 - Paris - Paris - 76 - Seine-maritime - Rouen - 77 - Seine-et-marne - Melun - 78 - Yvelines - Versailles - 79 - Deux-sèvres - Niort - 80 - Somme - Amiens - 81 - Tarn - Albi - 82 - Tarn-et-Garonne - Montauban - 83 - Var - Toulon - 84 - Vaucluse - Avignon - 85 - Vendée - La roche-sur-yon - 86 - Vienne - Poitiers - 87 - Haute-vienne - Limoges - 88 - Vosges - Épinal - 89 - Yonne - Auxerre - 90 - Territoire de belfort - Belfort - 91 - Essonne - Évry - 92 - Hauts-de-seine - Nanterre - 93 - Seine-Saint-Denis - Bobigny - 94 - Val-de-marne - Créteil - 95 - Val-d'Oise - Cergy Pontoise - 971 - Guadeloupe - Basse-terre - 972 - Martinique - Fort-de-france - 973 - Guyane - Cayenne - 974 - La réunion - Saint-denis - 976 - Mayotte - Mamoudzou
Auvergne-Rhône-Alpes, Bourgogne-Franche-Comté, Bretagne, Centre-Val de Loire, Corse, Grand Est, Hauts-de-France, Île-de-France, Normandie, Nouvelle-Aquitaine, Occitanie, Pays de la Loire, Provence-Alpes-Côte d'Azur