DOG TRAINER, EDUCATIONAL WALK IN TOWN & BASICS OF CANINE EDUCATION
Living in the city and adopting or acquiring a puppy or adult dog require the need to use a dog trainer for several reasons. In order to be able to walk with your dog freely in the city by enforcing the urban and sanitary rules to your dog, new dog owners call on a canine educator specializing in dog training in the city and adult dog education and puppy including all the basic rules and essential learning for dog walking in the city.
A dog walk in the city or in urban areas involves the dog knowing how to behave in many situations whether it is knowing how to move his dog forward, stop his dog, make his dog sit, know how to calm and reassure his dog during certain meetings with other dogs or in crowds or teach his dog to do his business in suitable places.
However, after having his dog do some dog training sessions and educational walks with leash in town or dog walks in town with GPS tracker collar, walks in town with a dog become pleasant for the master and the animal. Also beneficial for dog walks at the beach on beaches that allow dog walking and for all daily outings, dog educational walks are recommended by canine behavioral trainers and dog owners who have used a dog trainer or puppy school.
Some dogs assimilate more quickly the essential basic rules during dog training courses but the canine educator adapts and personalizes each session according to the animal which optimizes the education of the puppy or adult dog.
Also, when a dog learn the basic rules of canine education and after being well educated at walking in town on a leash, there are dog trainers who offer Mantrailing training in town to train the dogs of individuals and professionals to search for and track missing individuals.
Via the internet and the free professional directory servicespouranimaux.com, it is easy to find a dog trainer for adult dog and puppy everywhere in France and DOM-TOM.
You are looking for a canine behaviorist educator, just follow the following link:
You are a professional dog trainer, you can place an ad on servicespouranimaux.com:
(WEB PROMO EXCLUSIVELY ON SERVICESPOURANIMAUX.COM)
MADE IN FRANCE PERFECT DOG ACTIVE
ADULT DOG WITH SUSTAINED ACTIVITY
Tested and recommended by the rescue dog France team
CLICK ON THE IMAGE BELOW TO SEE THE DETAILS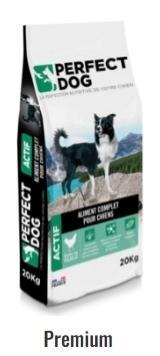 PROMO PRICE 40KG (2 BAGS OF 20KG) : 109.90 € TTC HOME DELIVERY OFFERED EVERYWHERE IN FRANCE (EXCLUDING CORSICA)
OR 2.75 € TTC POUND PER KILO
Everywhere in France to:
Paris, Marseille, Lyon, Toulon, Nice,
St Tropez, Cannes, Bastia, Ajaccio,
Bonifacio, Porto-Vecchio, Calvi, Aix-en-Provence, Arles, Sète, Montpellier,
Perpignan, Carcassonne, Nîmes,
Bayonne, Biarritz, Bordeaux,
Angoulême, Royan, La Rochelle, Poitiers, Clermont-Ferrand, Bourges, Nantes, La Baule, Angers, Le Mans, Laval, Rennes, Guingamp, St Brieuc, Brest, Lorient, Vannes, St Malo, Granville, Caen, Rouen, Le Havre, Lille, Arras, Dijon, Amiens,
Auxerre, Reims, Versailles,
Fontainebleau, Neuilly-sur-Seine, Boulogne-Billancourt, Nanterre, Saint-Cloud, Meudon, Issy-les-Moulineaux, Clamart, Courbevoie, Levallois-Perret, Saint-Ouen, Argenteuil, Sartrouville, Maisons-Laffitte, Chatou, Rueil-Malmaison, La Celle-Saint-Cloud, Viroflay, Marly-le-Roi, Saint-Germain-en-Laye, Chambourcy, Poissy, Orgeval, Saint-Cyr-l'Ecole, Bois-d'Arcy, Montigny-le-Bretonneux, Villepreux, Elancourt, Plaisir, Maurepas, La Verrière, Coignières, Le Mesnil-Saint-Denis, Dampierre-en-Yvelines, Senilisse, Les Essarts-le-Roi, Le Perray-en-Yvelines, Rambouillet, Clairefontaine-en-Yvelines, Saint-Arnoult-en-Yvelines, Rochefort-en-Yvelines, Dourdan, Marcoussis, Janvry, Les Ulis, Orsay, Gif-sur-Yvette, Palaiseau, Massy, Antony, Montrouge, Paris Orly, Aéoroport Charles de Gaulle, Athis-Mons, Savigny-sur-Orge, Viry-Châtillon, Evry-Courcouronnes, Corbeil-Essonnes, Lieusaint, Savigny-le-Temple, Cesson, Melun, Vaux-le-Vicomte, Dammarie-les-Lys, Brie-Comte-Robert, Créteil, Vitry-sur-Seine, Ivry-sur-Seine, Saint-Maur-des-Fossés, Noisy-le-Grand, Montreuil, Bobigny, Bondy, Aulnay-sous-Bois, Livry-Gargan, Villepinte, Tremblay-en-France, Villeparisis, Chelles, Torcy, Bussy-Saint-Georges, Lagny-sur-Marne, Chessy, Coupvray, Serris, Meaux, Gonesse, Sarcelles, Goussainville, Taverny, Franconville, Herblay, Argenteuil, Cergy, Pontoise, Saint-Ouen-l'Aumône, Osny, Saint-Denis, Vincennes, Villejuif, Strasbourg, Metz, Colmar, Nancy, Besançon, Troyes, Auxerre, Beauvais, Saint-Quentin, Soissons, Compiègne, Château-Thierry, Epernay, Châlons-en-Champagne, Saint-Dizier, Bar-le-Duc, Verdun, Chaumont, Vesoul, Belfort, Montbéliard, Pontarlier, Sarrebourg, Lunéville, Thionville, Charleville-Mézières, Maubeuge, Roubaix, Dunkerque, Calais, Berck, Abbeville, Dieppe, Evreux, Dreux, Chartres, Lisieux, Alençon, Bayeux, Mayenne, Saint-Lô, Granville, Le Mont-Saint-Michel, Cherbourg-en-Cotentin, Coutances, Saint-Malo, Dinan, Ploërmel, Châteaubriant, Saint-Nazaire, Guérande, Concarneau, Quimper, Quimperlé, Guidel, Quiberon, La Trinité-sur-Mer, Carnac, Crozon, Douarnenez, Landerneau, Morlaix, Lannion, Paimpol, Saint-Brieuc, Pontivy, Loudéac, Erquy, Vitré, Rochefort, Saintes, La Rochelle, La Roche-sur-Yon, Limoges, Tours, Niort, Les Sables-d'Olonne, Saint-Jean-de-Monts, Bourges, Orléans, Blois, Cognac, Royan, Vaux-sur-Mer, Saint-Palais-sur-Mer, Saint-Georges-de-Didonne, Soulac-sur-Mer, Libourne, Arcachon, Biscarrosse, Mimizan, Marmande, Mont-de-Marsan, Orthez, Dax, Saint-Jean-de-Luz, Pau, Lourdes, Tarbes, Muret, Montauban, Gaillac, Moissac, Castres, Toulouse, Cahors, Périgueux, Brive-la-Gaillarde, Aurillac, Rodez, Figeac, Albi, Tulle, Vichy, Thiers, Roanne, Montbrison, Vénissieux, Vienne, Saint-Priest, Villeurbanne, Mâcon, Saint-Etienne, Romans-sur-Isère, Valence, Montélimar, Orange, Avignon, Carpentras, Cavaillon, Saint-Rémy-de-Provence, Nîmes, Arles, Montpellier, Le Grau-du-Roi, Sète, Béziers, Agde, Perpignan, Argelès-sur-Mer, Narbonne, Carcassonne, Salon-de-Provence, Martigues, Cassis, La Ciotat, Manosque, Hyères, Saint-Tropez, Sainte-Maxime, Ramatuelle, Cogolin, Grimaud, Brignoles, Le Pradet, Six-Fours-les-Plages, Sanary-sur-Mer, La Valette-du-Var, La Garde, Carnoules, Pierrefeu-du-Var, Saint-Raphaël, Fréjus, Le Muy, La Motte, Draguignan, Trans-en-Provence, Le Cannet, Antibes, Saint-Laurent-du-Var, Monaco, Menton, Cap-d'Ail, Beausoleil, Monte-Carlo, Cagnes-sur-Mer, Grasse, Fayence, Grenoble, Gap, Digne-les-Bains, Sisteron, Voiron, Chambéry, Albertville, Aix-les-Bains, Annecy, Villeurbanne, St Etienne, Foix, Guéret,
01 - Ain - Bourg-en-bresse - 02 - Aisne - Laon - 03 - Allier - Moulins - 04 - Alpes-de-Haute-Provence - Digne-les-bains - 05 - Hautes-alpes - Gap -06 - Alpes-maritimes - Nice - 07 - Ardèche - Privas - 08 - Ardennes - Charleville-mézières - 09 - Ariège - Foix - 10 - Aube - Troyes - 11 - Aude - Carcassonne - 12 - Aveyron - Rodez - 13 - Bouches-du-Rhône - Marseille - 14 - Calvados - Caen - 15 - Cantal - Aurillac - 16 - Charente - Angoulême - 17 - Charente-maritime - La rochelle - 18 - Cher - Bourges - 19 - Corrèze - Tulle - 2A - Corse-du-sud - Ajaccio - 2B - Haute-Corse - Bastia - 21 - Côte-d'Or - Dijon - 22 - Côtes-d'Armor - Saint-brieuc - 23 - Creuse - Guéret - 24 - Dordogne - Périgueux - 25 - Doubs - Besançon - 26 - Drôme - Valence - 27 - Eure - Évreux - 28 - Eure-et-loir - Chartres - 29 - Finistère - Quimper - 30 - Gard - Nîmes - 31 - Haute-garonne - Toulouse - 32 - Gers - Auch - 33 - Gironde - Bordeaux - 34 - Hérault - Montpellier - 35 - Ille-et-vilaine - Rennes - 36 - Indre - Châteauroux - 37 - Indre-et-loire - Tours - 38 - Isère - Grenoble - 39 - Jura - Lons-le-saunier - 40 - Landes - Mont-de-marsan - 41 - Loir-et-cher - Blois - 42 - Loire - Saint-étienne - 43 - Haute-loire - Le puy-en-velay - 44 - Loire-atlantique - Nantes - 45 - Loiret - Orléans - 46 - Lot - Cahors - 47 - Lot-et-garonne - Agen - 48 - Lozère - Mende - 49 - Maine-et-loire - Angers - 50 - Manche - Saint-lô - 51 - Marne - Châlons-en-champagne - 52 - Haute-marne - Chaumont - 53 - Mayenne - Laval - 54 - Meurthe-et-moselle - Nancy - 55 - Meuse - Bar-le-duc - 56 - Morbihan - Vannes - 57 - Moselle - Metz - 58 - Nièvre - Nevers - 59 - Nord - Lille - 60 - Oise - Beauvais - 61 - Orne - Alençon - 62 - Pas-de-calais - Arras - 63 - Puy-de-dôme - Clermont-ferrand - 64 - Pyrénées-atlantiques - Pau - 65 - Hautes-Pyrénées - Tarbes - 66 - Pyrénées-orientales - Perpignan - 67 - Bas-rhin - Strasbourg - 68 - Haut-rhin - Colmar - 69 - Rhône - Lyon - 70 - Haute-saône - Vesoul - 71 - Saône-et-loire - Mâcon - 72 - Sarthe - Le mans - 73 - Savoie - Chambéry - 74 - Haute-savoie - Annecy - 75 - Paris - Paris - 76 - Seine-maritime - Rouen - 77 - Seine-et-marne - Melun - 78 - Yvelines - Versailles - 79 - Deux-sèvres - Niort - 80 - Somme - Amiens - 81 - Tarn - Albi - 82 - Tarn-et-Garonne - Montauban - 83 - Var - Toulon - 84 - Vaucluse - Avignon - 85 - Vendée - La roche-sur-yon - 86 - Vienne - Poitiers - 87 - Haute-vienne - Limoges - 88 - Vosges - Épinal - 89 - Yonne - Auxerre - 90 - Territoire de belfort - Belfort - 91 - Essonne - Évry - 92 - Hauts-de-seine - Nanterre - 93 - Seine-Saint-Denis - Bobigny - 94 - Val-de-marne - Créteil - 95 - Val-d'Oise - Cergy Pontoise - 971 - Guadeloupe - Basse-terre - 972 - Martinique - Fort-de-france - 973 - Guyane - Cayenne - 974 - La réunion - Saint-denis - 976 - Mayotte - Mamoudzou
Auvergne-Rhône-Alpes, Bourgogne-Franche-Comté, Bretagne, Centre-Val de Loire, Corse, Grand Est, Hauts-de-France, Île-de-France, Normandie, Nouvelle-Aquitaine, Occitanie, Pays de la Loire, Provence-Alpes-Côte d'Azur