"Le PAM"
Behavioral Scientists
Animal Training Center
Animal Park
Your specialist "Le PAM" is a team of professionals in applied behavioral sciences.
We work on our private animal park that welcomes animals of all species in need. We offer training for all professions related to animals or biology as well as conferences and other animations that we give in video or face-to-face.
"Le PAM" offers you different training courses in animal professions:
_ animal training behaviorist domestic animals and wild animals
_ animal training feline canine educator
_ animal training in the animal shop
_ pet-sitting animal training (dogs, cats, nac's, reptiles, horses...)
(health protocol strictly adhered to)

Training center located in Campuzan near Tarbes and Toulouse.
Distance animal training france as a whole & face-to-face animal training.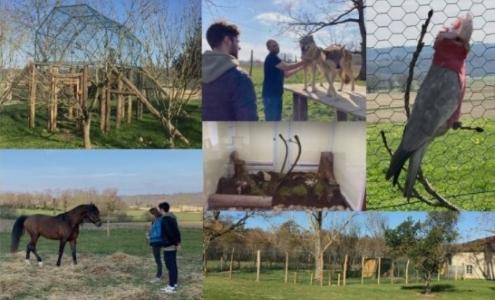 For all information and reservations, please contact us.
Contact "Le PAM" by phone at 06.24.48.36.10 or 06.26.38.45.80
by e-mail: contact@raam-pam.fr
website: PAM Animal Behaviorists

Le PAM
65230 Campuzan
Hautes-Pyrénées
Tarbes - Toulouse
Facebook page: PAM | Facebook