"TO ALL PAPATTES"
Pet sitting
Animal boarding
Your specialist "A TOUS PAPATTES" offers you his animal services:
_ pet sitting at home, dog sitting, dog walker, cat sitting, nac sitter
_ home visits
_ pet pension, dog board, nac boarding
_ transport of animals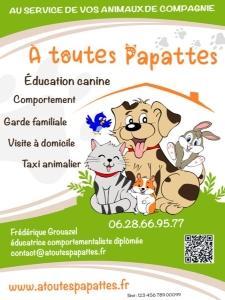 Pet sitting Rennes, Fougères and surroundings in the department Ille-et-Vilaine 35 + Manche 50 + Mayenne 53.
(see at the bottom of the page the list of communes of intervention in the department 35 Ille-et-Vilaine)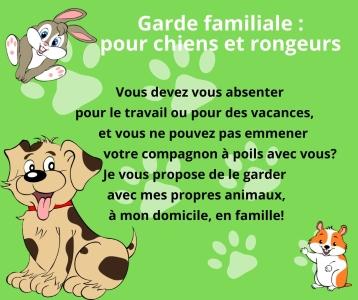 For all information and reservations, please contact me.
Contact "A TOUS PAPATTES" by phone at 06.28.66.95.77
by email: contact@atoutespapattes.fr
Website: à toutes papattes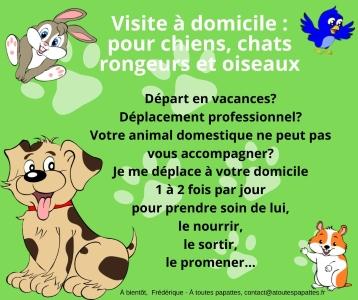 TO ALL PAW
Reindeer / Ferns
Ille-et-Vilaine 35
Facebook page: À toutes papattes | Facebook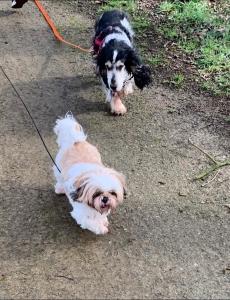 List of communes of intervention in the department 35 Ille-et-Vilaine:
Rennes, Saint-Jacques-de-la-Lande, Chartres-de-Bretagne, Noyal-Châtillon-sur-Seiche, Châtillon-sur-Seiche, Pont-Péan, Chantepie, Vern-sur-Seiche, Saint-Erblon, Nouvoitou, Domloup, Châteaugiron, Ossé, Saint-Aubin-du-Pavail, Saint-Armel, Orgères, Bourgbarré, Corps-Nuds, Chanteloup, Brie, Janzé, Le Petit-Fougeray, Saulnières, Le Sel-de-Bretagne, Le Theil-de-Bretagne, Arbrissel, Retiers, Champagné, Sainte-Colombe, Marcillé-Robert, Moussé, Drouges, Le Boulay, Forges-la-Forêt, Chelun, Martigné-Ferchaud, Eancé, Thourie, Lalleu, La Couyère, Tresboeuf, La Bosse-de-Bretagne, Moutiers, La Selle-Guerchaise, La Haute Lande, Availles-sur-Seiche, Domalain, Visseiche, Saint-Germain-du-Pinel, Brielles, Bais, Torcé, Etrelles, Argentré-du-Plessis, Mondevert, Vitré, Pocé-les-Bois, Saint-Aubin-des-Landes, Erbrée, Saint-Mélaine, Châteaubourg, Saint-Didier, Brécé, Noyal-sur-Vilaine, Servon-sur-Vilaine, Acigné, Cesson-Sévigné, Thorigné-Fouillard...
Fougères, La Chapelle-Janson, Luitré, Javené, Fleurigné, Beaucé, Laignelet, La Selle-en-Luitré, Romagné, La Chapelle-Saint-Aubert, Saint-Sauveur-des-Landes, Saint-Hilaire-des-Landes, Baillé, Saint-Marc-le-Blanc, Le Tiercent, Saint-Christophe-de-Valains, Saint-Ouen-des-Alleux, Saint-Germain-en-Coglès, Le Châtellier, Saint-Etienne-en-Coglès, Maen-Roch, La Selle-en-Coglès, Montours, Parigné, Landéan, La Bazouge-du-Désert, Louvigné-du-Désert, Mellé, Villamée, Poilley, Coglès, Le Ferré, Saint-Georges-de-Reintembault, Monthault...