PACK 80kg Dog kibble Made in France
ADULT DOG KIBBLE WITH SUSTAINED ACTIVITY (MADE IN FRANCE)
2 BAGS OF 20KG (TOTAL 40KG)
Tested and recommended by the rescue dog France team
Working dog, hunting, sledding, herdding or companion of your daily jogging, your dog has a sustained and regular physical activity that requires an adapted diet to maintain his dynamism, and his physical form.
The Perfect Dog Premium ACTIF food, made in France, has been developed in collaboration with dog professionals to meet the nutritional needs of our active companions.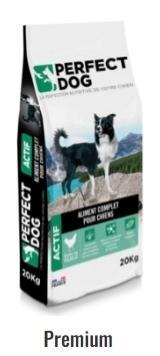 The high intake of energy, easily mobilized with regard to fat, allows it to support any physical activity regardless of its intensity and duration. With a protein and fat content of 30% and 20%, Perfect Dog Premium ACTIF is a complete and balanced food that will help your dog support an active daily life.
If this rhythm is interspersed with quieter moments, you can alternate Perfect Dog Premium ACTIVE with Perfect Dog Premium FORM. This will allow you to maintain a constant daily ration and thus prevent any digestive overload or feeling hungry.
Like our entire range, Perfect Dog Premium ACTIF is aimed at all dog breeds without distinction.
+
ADULT DOG KIBBLE WITH A NORMAL ACTIVITY (MADE IN FRANCE)
2 BAGS OF 20KG (TOTAL 40KG)
Tested and recommended by the rescue dog France team
Your dog is an adult
physiologically from 8-10 months for small breeds, around 12 months for medium, between 15 and 18 months for large breeds and up to 24 months for very large breeds.
You can now feed it with Perfect Dog Premium FORME. This food, made in France, has been developed with dog professionals, it is intended for adults of all breeds with normal activity.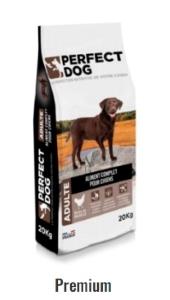 With 26% protein, 16% fat and a controlled intake of vitamins and trace elements, this food offers your dog the balanced diet he needs. Highly digestible, Perfect Dog Premium FORME will help your pet maintain its musculature and dynamism. Brewer's yeast, combined with omega 3 and 6 from fish, will contribute to a silky coat and healthy skin.
The ring shape of Perfect Dog Premium FORME ensures your pet grinding without major difficulty, beet pulp also participates in digestive comfort. This food will help maintain an optimal weight for your dog and a harmonious musculature.
COMPOSITION (for Perfect Dog Actif)
dehydrated poultry protein, wheat, maize, animal fats, greaves, dehydrated fish protein, maize gluten, rice, hydrolysate, brewer's yeast, minerals, remoulding
ANALYTICAL CONSTITUENTS
Crude protein: 30%
Crude fat: 20%
Crude fibres: 2%
Crude ash: 8%
Calcuim: 1.6%
Phosphorus: 1.1%
VITAMIN ADDITIVES
Vitamin A: 24000 IU/kg
Vitamin D3: 2000 IU/kg
TRACE ELEMENTS
Copper sulphate pentahydrate: 12 mg/kg
Iron sulphate monohydrate: 100 mg/kg
Zinc sulphate monohydrate: 125 mg/kg
Manganese oxide: 50 mg/kg
Sodium selenite: 0.15 mg/kg
Anhydrous calcium iodate: 1.5 mg/kg
ANTIOXYGENS
TECHNOLOGICAL ADDITIVES
Bentonite-Montmorillonite: 15000 mg/kg
METABOLIC ENERGY: 4002 kcal / kg
PROMO PRICE 80KG (2 BAGS OF 20KG PERFECT DOG SHAPE + 2 BAGS OF 20KG PERFECT DOG ACTIVE): 204.90 € TTC FREE HOME DELIVERY EVERYWHERE IN FRANCE (EXCLUDING CORSICA)
OR 2.56 € TTC POUND / KILO