Natural kibble adult dog
Natural kibble adult dog
OWNAT CLASSIC FISH
adult dog any breed
normal activity
bag 20 kg
DOG FRIDAY 73,00€ 65,90€ inc. tax
reduction of 7,10€
OWNAT CLASSIC FISH
Kibbles with natural ingredients for adult dog any breed with normal activity.
Complete and balanced diet that ensures optimal assimilation thanks to the proteins of fresh fish and a balanced intake of dietary fiber that helps regulate intestinal transit.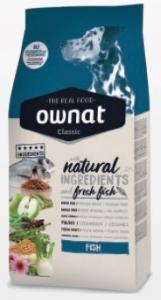 PROMO PRICE 20 KG : 73.00 € TTC - DELIVERY INCLUDED - DELIVERY WHOLE FRANCE (EXCLUDING CORSICA)
Made with fresh fish, contains an additional intake of Omega 3 and 6 fatty acids that help maintain healthy skin and silky and shiny hair.
COMPOSITION:
Dehydrated meat (18%), fish 15% (fresh fish* 10%, dehydrated fish 5%), whole wheat* (12%), whole barley* (12%), chicken fat, wheat bran* (9%), whole corn* (9%), brown rice* (6%), whole peas* (3%), fresh apple* (1%), salmon oil, flaxseed* (1%), beet pulp, fructo oligosaccharides and mannan-oligosaccharides, brewer's yeast* (0.5%), botanical herbs 0.02% (fennel*, echinacea*, thyme*), yucca schidigera. *Natural ingredients.
PROMO PRICE 20 KG : 73.00 € TTC - DELIVERY INCLUDED - DELIVERY WHOLE FRANCE (EXCLUDING CORSICA)