PACK 40kg Junior Dog Kibble PREMIUM
PACK 40kg Junior Dog Kibble PREMIUM
PERFECT DOG JUNIOR Made in France
puppy & female
(2 bags of 20kg)
Delivery included
MADE IN FRANCE
Made in France, Perfect Dog Premium JUNIOR, is a food suitable for pregnant or lactating females as well as puppies weaned at 8 or 24 months (depending on the breed).
We recommend feeding the at will from the sixth week of gestation and during the lactation period. Indeed, the balance between dehydrated poultry meat, different cereals, nutrients, vitamins and minerals allows Perfect Dog Premium JUNIOR covers specific nutritional requirements due to gestation, lactation or growth.
The more your dog has a diet adapted to her needs during these important periods, the more beautiful and stocky the puppies will be, and the mother preserved.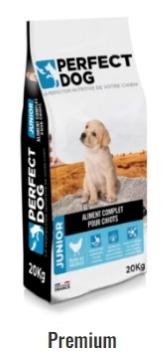 THE PUPPY
Your puppy is between 4 and 6 weeks old, weaning begins, Perfect Dog Premium JUNIOR precisely meets the very specific nutritional needs of your little companion at the beginning of his life.
Whatever its breed, this complete food provides it with the nutrients and minerals necessary for the development of its muscles and bones, while respecting its digestive capacity. Our kibble ring offers your puppy a grinding without difficulty.
Perfect Dog Premium JUNIOR has been designed in close collaboration with dog professionals and breeders, to allow us to offer you a premium food, highly digestible and palatable thanks to the quality of our ingredients.
COMPLETE FOOD FOR PUPPIES, PREGNANT AND LACTATING FEMALE
COMPOSITION
dehydrated poultry protein, wheat, maize, animal fats, poultry proteins, dehydrated fish, hydrolyzed animal protein, dehydrated beet pulp, brewer's yeast, minerals.
ANALYTICAL CONSTITUENTS
Crude protein: 30%
Crude fat: 18%
Crude fibres: 2%
Crude ash: 8.5%
Calcium: 1.6%
Phosphorus: 1.1%
VITAMIN ADDITIVES
Vitamin A: 24000 IU/kg
Vitamin D3: 2000 IU/kg
Vitamin E: 300 mg
TRACE ELEMENTS
Copper sulphate pentahydrate: 10 mg/kg
Iron sulphate monohydrate:50 mg/kg
Zinc sulphate monohydrate: 62.5 mg/kg
Manganese oxide: 5 mg/kg
Sodium selenite: 0.15 mg/kg
Anhydrous calcium iodate: 1.5 mg/kg
ANTIOXYGENS
TECHNOLOGICAL ADDITIVES
Bentonite-Montmorillonite: 15000 mg/kg
METABOLIC ENERGY: 3891 kcal / kg
PROMO PRICE 40KG (2 BAGS OF 20KG): 109.90 € TTC FREE HOME DELIVERY EVERYWHERE IN FRANCE (EXCLUDING CORSICA)