PET CAMERA, BEST CHEAP PRICE
Innovative and practical, pet cameras have become a staple in specialty stores and online pet stores. However, before any purchase, it is important to know the different types and models of existing pet cameras in order to determine and select a suitable pet camera for your needs.
There are several types of cameras for characterized animals by indoor cameras and outdoor cameras.
On the one hand, there are indoor cameras for animals that include connected or non-connected surveillance cameras as well as connected or non-connected camera traps. They can be fixed on a wall or placed on a piece of furniture depending on the models of surveillance cameras offered. The main role of an animal surveillance camera is to be able to monitor a dog or cat remotely and it also ensures that everything goes well in the habitat. Note that we can find an integrated and discreet surveillance camera in some models kibble dispenser connected with camera.
The best surveillance camera for indoor animals has the best features such as remote viewing on smartphone or tablet with real-time notifications in case of detection, full hd video resolution, motion detector, infrared detection, a two-way audio system to talk and interact with your pet as well as the possibility of placing or fixing it to the image of the model connected surveillance camera for dog cat Eyenimal Pet Vision Live Full HD for sale web promo on servicespouranimaux.com.
Connected pet camera
Eyenimal Pet Vision Full HD
Delivery included France Metropolitan
Click on the image below to see the details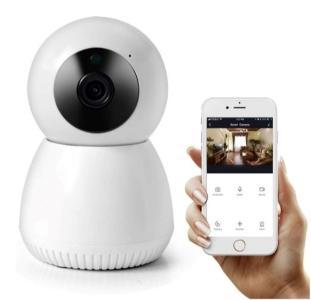 On the other hand, we distinguish outdoor cameras for animals that include onboard cameras for dogs or dog camera collar and onboard cameras for cats or cat camera collar. From a smartphone or tablet, the outdoor camera for animals allows you to follow your pet as well as see and hear everything it sees, hears and does during its walks.
The on-board camera for dog (dog camera collar) or onboard camera for cat (cat camera collar) is a ultra-light miniature camera that is attached to the collar of the animal to record videos day and night thanks to night vision like the model onboard camera for cat dog Eyenimal Pet Videocam on sale promo web on servicespouranimaux.com.
On-board camera for cats & dogs
Eyenimal Pet Videocam
Delivery included France Metropolitan
Click on the image below to see the details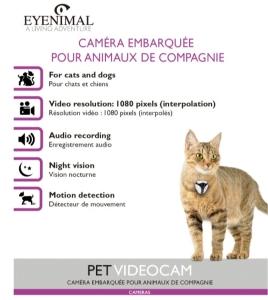 On-board camera for dogs
Eyenimal Dog Videocam
Delivery included France Metropolitan
Click on the image below to see the details