BEST DOG KIBBLE MADE IN FRANCE, PRIVATE SALE & DOG FRIDAY
The best dog kibble is determined as the best cat kibble via different assessment criteria such as the quality and nutritional value of the ingredients used as well as the shape and palatability of the dog kibble.
To do this, the tests in practice with several breeds of dogs make it possible to guarantee the good quality of the kibble with the approval of the dogs.
Dog kibble Premium and Natural Dog Kibble represent the majority of dog kibble sales and the associated ranges are numerous depending on the breed and size of the dog or whether it is a sports dog, a research dog, a rescue dog, a hunting dog and a breeder's dog.
(WEB PROMO EXCLUSIVELY ON SERVICESPOURANIMAUX.COM)
ADULT DOG KIBBLE WITH NORMAL ACTIVITY
Tested and recommended by the rescue dog France team
CLICK ON THE IMAGE BELOW TO SEE THE DETAILS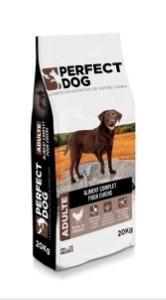 PROMO PRICE 20 KG : 62.90 € TTC (1 bag of 20 kg) DELIVERY INCLUDED EVERYWHERE IN FRANCE (EXCLUDING CORSICA)
The kibble for adult dogs and puppies "Perfect Dog" are made and packaged in France. In addition to being made in France, dog kibble Made in France "Perfect Dog" has the name "Tested and recommended by the rescue dog France team".
The brand "Perfect Dog" has 3 ranges of premium kibble composed for adult dogs with normal activity, adult dogs with sustained activity and pregnant or nursing puppies or females.
The dog kibble "Perfect Dog" are delivered at home everywhere in France (except Corsica).
Discover the entire "Perfect Dog" range and promo offers in the servicespouranimaux.com Online Shop:
(WEB PROMO EXCLUSIVELY ON SERVICESPOURANIMAUX.COM)
ADULT DOG KIBBLE WITH SUSTAINED ACTIVITY
Tested and recommended by the rescue dog France team
CLICK ON THE IMAGE BELOW TO SEE THE DETAILS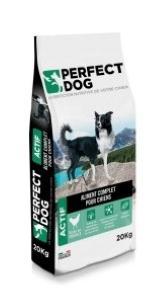 PROMO PRICE 20 KG : 64.90 € TTC (1 bag of 20 kg) DELIVERY INCLUDED EVERYWHERE IN FRANCE (EXCLUDING CORSICA)